A Rough Guide to Bentley Identification
Crewe Bentleys - Mk VI to S type
This is a large subject, as the Crewe story continues to the present day. Technological development is as good a basis as any for categorising post-war Bentley cars as, to some extent, form follows function. Here is my rough guide to Crewe Bentleys up to the S3. The T type, introduced in 1965, was of monocoque construction and will be dealt with on the next page.
Type
Period
Synopsis
Variants
Mk VI
1946-1952
4¼ litre (later 4½ L), 6-cyl engine,
IFS, mechanical servo brakes,
steel body, small boot with lid
hinged at bottom
Complete cars supplied from factory
Rolling chassis also supplied for
coachbuilt bodies on request
R type
1952-1955
Variation on Mk VI:
4½ litre (Continentals 4.9 L), 6-cyl
engine, large boot with lid hinged
at top; automatic gearbox from 1953
A few standard chassis had coachbuilt
bodies. Continental versions (from 1953)
had aluminium 2-door bodies, 4.9 litre
engines and high-geared rear axles
S1
1955-1959
New body design. Mechanically
similar to late R type (4.9 L 6-cyl)
Continental versions available. H J Mulliner
continued the "fastback" style of their R type
Continental, adding a subtle swage line
to the rear wings
S2
1959-1962
Body as S1. New 6.2 litre V8 engine,
auto gearbox and PAS standard,
air conditioning optional
Continental versions available from fewer
coachbuilders (H J Mulliner, Park Ward,
James Young and Hooper). H J Mulliner
offered a 4-door "Flying Spur" and I have
seen a 4-door car by James Young
S3
1962-1965
Twin-headlamps, and small over-riders
chiefly distinguish the S3.
Park Ward's S3 Continental featured
slanted twin-headlamps
As will be inferred from the foregoing, although the Rolls Royce factory now made and supplied complete cars with standard steel bodies (made for them by Pressed Steel Fisher), they also supplied rolling chassis for coachbuilders to mount bodies for owners who wanted something different. Although most such arrangements applied to the "Continental" chassis, a few coachbuilt R types were made on standard chassis prior to 1953, when the "fastback" R type Continental by H J Mulliner appeared and was acclaimed as the fastest four-seater car in the world.
Mk VI and R type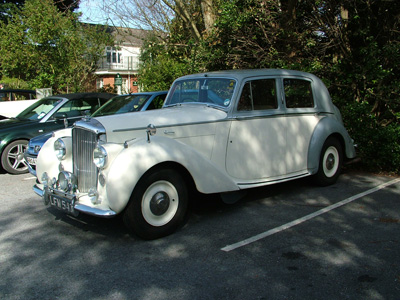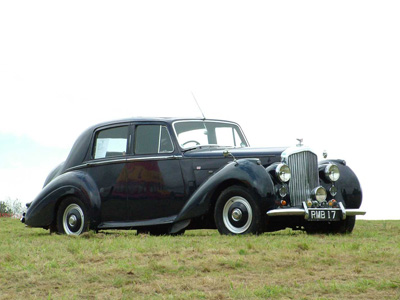 The Standard Steel Mk VI (left) and R type (right) are virtually indistinguishable from the front.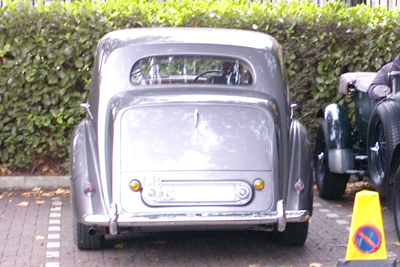 The rear view of the Mk VI (left) is distinguished by the almost flat boot lid with handle at the top, hinged at the bottom.
The R type's boot lid (right) is top-hinged, with handle at the bottom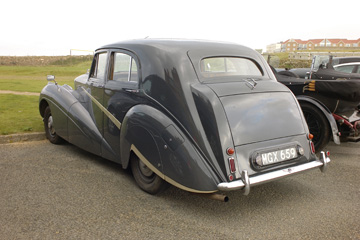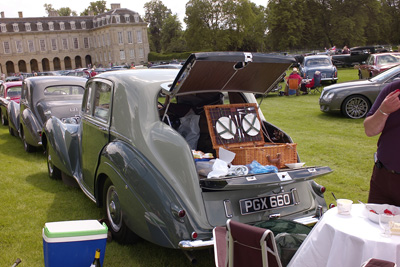 These cars, MkVI (left) and R type (right), are "Countryman" conversions by Harold Radford.
R type Continental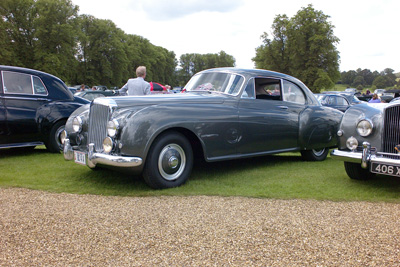 The R type Continental was released in 1953. The emphasis was on light weight and high performance. The "fastback" body by H J Mulliner was of aluminium alloy; both bumpers and wheel trims were polished aluminium.
Notice the subtle difference in the reflection from the chromed front bumper of the adjacent car, which is an S1 Continental.
S type
Standard Steel S1 and S2 cars are virtually indistinguishable. This is an S2, which was the first type to be fitted with a new V-8 engine of 6.2 litres, replacing the 4.9 litre straight-six of the S1.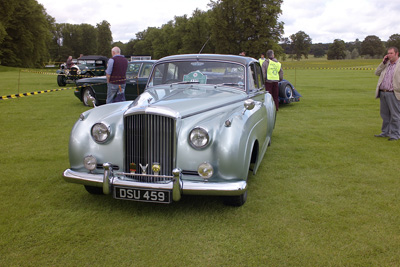 The S3 carried twin headlamps, smaller over-riders and rectangular sidelamp/trafficators inserted in the front wings. This is a Standard Steel car.
S type Continental
Several coachbuilders offered bodies for the S1. H J Mulliner made a "fastback" that is easily mistaken for an R type.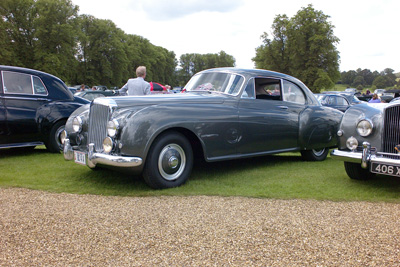 The S1 (left) is slightly more upright and the rear wing line is more square than the R type (right).

The S1's rear wing also carries a swage line (just discernable in this picture) and S-type over-riders. Bumpers are chromed and wheel trims of stainless steel. The bonnet line is straight, whereas the R type's curves down slightly at the front. S1 fastbacks had open rear wheel arches, whilst R types bore spats, presumably to improve the aerodynamics. Some owners had these removed, as they were somewhat of a nuisance; so absence of rear spats is not a definitive indication of an S1.

Park Ward S1s are clearly distinguished by external boot hinges and vestigial fins atop the rear wings. Some extant cars have had the fins removed or reduced, but the exposed hinges are a dead giveaway. Their seats were pleated full-length, without a bolster roll at the front.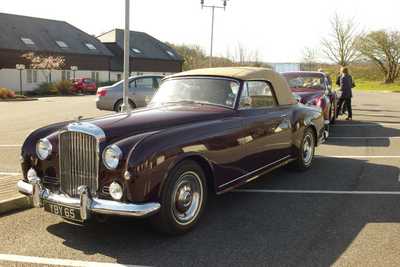 S2 Continental
These three pictures are of a S2 4-door Continental by James Young, whose square door-release buttons identify their work.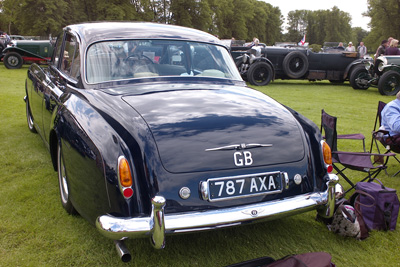 H J Mulliner also offered 4-door Continental bodies as an alternative to the 2-door coupes that had characterised the original Continental Bentley concept. Mulliner called these cars "Flying Spur", a name that is still used up to 2013 to denote a 4-door Continental. In 2013, the "Continental" epithet was dropped for the "New Flying Spur".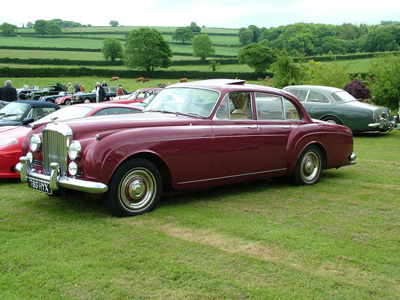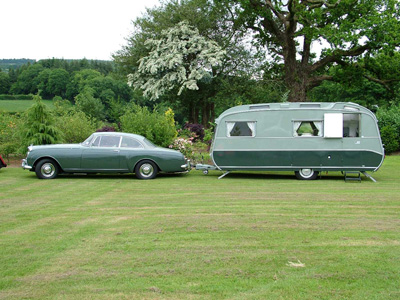 S2 Continental Flying Spur (left) and 2-door Continental (right)
S3 Continental
H J Mulliner's S3 Continental (left) closely resembles the Standard Steel car from the front.

The rear wing line is higher and the rear number plate assembly is carried in a chromed surround like that of the S2 Flying Spur (right).

Park Ward's approach (right) was radically different, with elegantly slanted pairs of headlamps, but a rather slab-sided profile. Park Ward also used steel, rather than aluminium alloy, for structural elements of the body.
June 2013